7 Best Dehumidifiers To Buy In Australia In 2022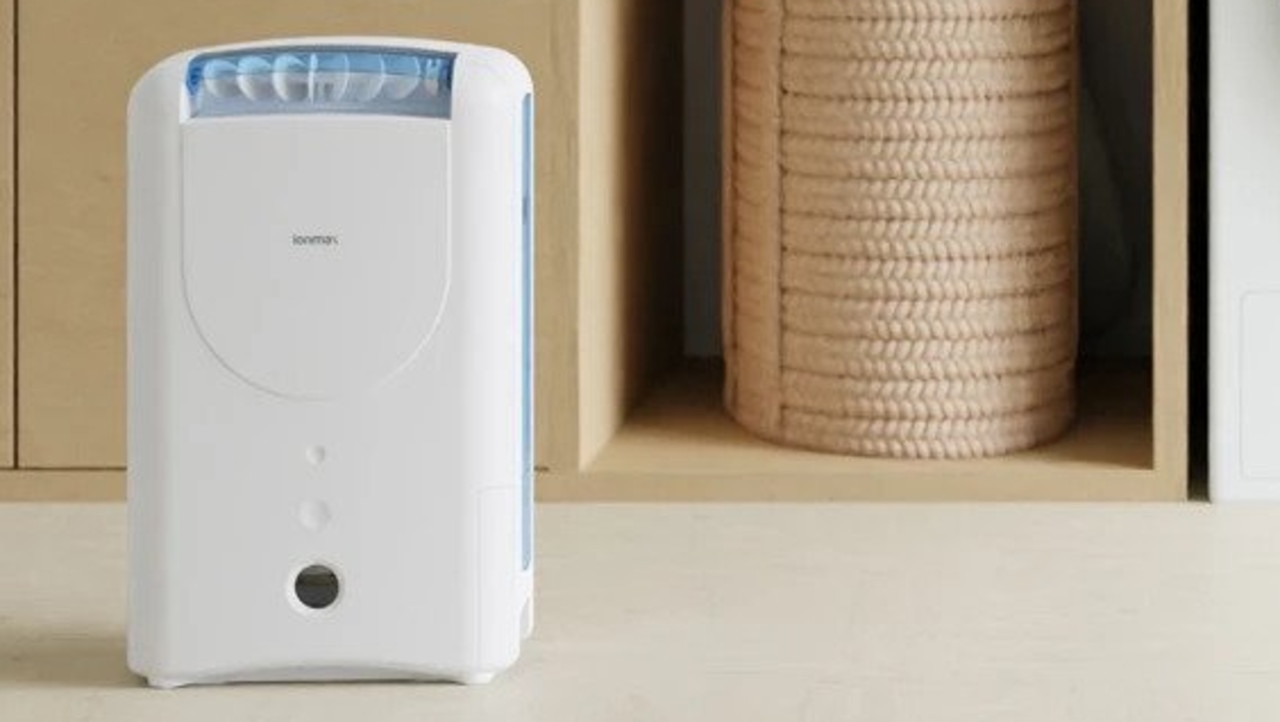 Vacuum excess water from your home and reduce the risk of mold with one of these powerful dehumidifiers.
Our articles are dedicated to helping you find the right product at the right price. We may receive revenue from affiliate and advertising partnerships for sharing this content and when you make a purchase. Learn more
Sticky, humid weather can take a toll on both your home and your mood very quickly.
It can also lead to a mold attack that not only looks terrible, but can also pose a serious health risk.
This is where a dehumidifier comes in.
Unlike a humidifier, which adds moisture to the air, a dehumidifier draws in warmer drafts and expels cooler, drier air.
Not only does this make the home drier and less moldy, but it can also mean a lower air conditioning bill, less air pollution and, in some cases, fewer severe allergies.
With many dehumidifier models to choose from, we're here to help you narrow down your options so you can enjoy them sooner.
GUIDE TO THE BEST DEHUMIDIFIERS
To help you remove humidity from every part of your home, we've rounded up seven of the best dehumidifiers for Aussies, based on real customer reviews and our own product knowledge.
As always, please note that sale prices are correct and products are in stock at the time of publication.
Ionmax ION612 dehumidifier, Amazon Australia, RRP $469
Boasting an impressive 4.7 out of 5 star rating on Google Reviews, the ION612 from Ionmax is capable of removing up to 7 liters of moisture from the air per day, making it an excellent dehumidifier for medium-sized rooms.
The controls at the top of the unit are easy to use, with the panel including a handy 8-hour timer and a laundry function that helps dry your laundry inside. Weighing around 6kg, the ION612 is also quite light and includes a fold-down carry handle to increase portability.
Additional features include a continuous drain option that lets you keep running without having to continuously empty the water tank, and three-way adjustment for extended room coverage.
Ionmax ION610 Desiccant Dehumidifier, Online Devices, $299 (MSRP $349)
If you're looking for a dehumidifier with a slightly lower capacity, the Ionmax ION610 is extremely well rated. Eliminating up to 6 liters of moisture per day, the unit has a 1.8 liter reservoir and a dedicated 'laundry' mode to help you dry your clothes faster indoors.
Weighing just 5.1kg, the ION610 can be moved from room to room with relative ease, making it a great option for keeping your entire home dry. It also operates at low noise levels of 34-45 dBA, which is not always the case for smaller machines.
The dehumidifier's water tank is designed with a water level indicator and includes a hose so you can operate it with a continuous drain option, which is an extremely convenient addition. It also includes an antibacterial air filter, three power settings, four preset relative humidity levels, and a timer that can be set for up to eight hours at a time.
DeLonghi Tasciugo AriaDry Multi Dehumidifier, Online Devices, $407 (RRP $469)
With its 4.7 star rating on Google Reviews, the DeLonghi Tasciugo AriaDry Multi Dehumidifier is a great option for those with larger homes. Capable of removing a whopping 16L of excess moisture in 24 hours, the model is ideal for areas prone to high levels of humidity.
Equipped with a dual filtration system, the AriaDry contains both a dust filter and a removable filter designed to capture various allergens, meaning it can also help improve the overall air quality in your home. House.
With its dedicated laundry function, continuous drain system and relatively portable size, the Delonghi dehumidifier is a great all-rounder at a reasonable price.
Breville The All-Climate Dehumidifier, Amazon Australia, RRP $499
Designed for both cold and hot environments, Breville's all-climate dehumidifier is an ultra-efficient model designed for medium-sized rooms and hard-to-control areas like bathrooms or laundry rooms.
It features a 2-stage air filtration system that includes both a pre-filter and a carbon filter to reduce dust, pet dander, odors, smoke and other airborne allergens in the air, so it is ideal for people with asthma or seasonal allergies.
A Sensair system meanwhile lets you keep humidity levels within your comfort zone by setting your preferred level and letting it do the rest.
The dehumidifier is capable of capturing up to 8 liters of water per day and also has a laundry mode which can be used both to dry clothes faster and to help dry damp rugs and carpets.
AusClimate Cool Seasons Premium 10L Desiccant Dehumidifier, Devices Online, RRP $629
With a capacity of 10L, the AusClimate Cool Seasons Premium is both compact and lightweight, yet powerful in performance. Unlike some others on this list, this dehumidifier is specifically designed for cooler climates and has the ability to remove moisture from the air for temperatures as low as 1°C.
The all-in-one dehumidifier and dryer also comes equipped with a laundry mode to help you dry clothes faster in cooler weather and features a nano-silver filter designed to kill bacteria on contact.
Additional features include a 12 hour timer, 3 liter water tank, auto restart function and continuous drain system.
Tenergy Sorbi Air Dehumidifier 1000ml, Amazon Australia, RRP $245
If you're looking for a really compact dehumidifier, this little option from Tenergy is sure to do the trick. The ultra-quiet unit is the perfect size for small spaces, making it a great option for those who don't have adequate ventilation in their bathroom or laundry room.
With a HEPA air purifier function, the Sorbi can purify the air while removing excess humidity at the same time, which is a great addition for a model in this price range. It also features an LED indicator, auto shut off, water level sensor and an extremely portable 6 lb design.
It only removes 750ml of water per day, so you'll need to empty it regularly, but it's still a handy option for short burst use.
AusClimate NWT Large 35L dehumidifier, Harvey Norman, $529 (RRP $599)
With its massive 35L capacity, this AusClimate NWT model will have your home drier in no time. The dehumidifier has a 6 liter water tank and a high moisture removal rate, making it suitable for large rooms such as dining rooms and living rooms.
It also comes with wheels and built-in handles so you can easily transport it around the house, even when it's full. Similar to others on this list, the dehumidifier also comes equipped with popular features like a continuous drain function, auto shut-off, and a 12-hour timer.
If you are looking for a slightly lower capacity, AusClimate also has a Medium TNO model 20L it is ideal for medium-sized spaces such as bedrooms.
WHAT TO CONSIDER BEFORE BUYING A DEHUMIDIFIER
Although a dehumidifier can be a great investment, there are some factors you need to consider before making a purchase.
Cut
Dehumidifiers come in a range of different sizes and capacities, making it relatively easy to find one that meets your needs. Broadly speaking, dehumidifiers come in three sizes: large, medium and small, with capacities starting at around 500ml per day and going up to around 40 liters per day.
Larger capacity models are often quieter and more energy efficient, although they tend to be bigger, heavier and more expensive. Smaller capacity models are more economical and better suited to smaller areas such as bathrooms, but the tradeoff is that you'll get fewer features, less efficiency and a smaller water tank.
Water reservoir
Speaking of water tanks, you'll want to look for a dehumidifier with a capacity of 4L or more if you want to avoid emptying it frequently. Since a larger tank equals a bigger and heavier dehumidifier, you'll need to weigh portability and the size of your space with the convenience of a larger tank.
You can also look for models with a hose outlet, which will allow you to run a hose from the unit to a drain or sink for continuous draining.
Hygrostat
Although usually found on more expensive models, a humidistat is a handy feature worth seeking out. If your humidifier has this feature, it means you can adjust the target relative humidity of the room to make it as comfortable as possible.
Automatic restart
If you want your dehumidifier to keep running with minimal effort, try looking for a model with an auto-restart feature. After a power outage, these dehumidifiers restart on their own so you don't have to lift a finger.
DOES A DEHUMIDIFIER HELP AFTER A FLOOD?
While a dehumidifier can't completely save your home, it can help dry out flood-affected rooms and move air to prevent condensation and mold from forming. How long it will take to dry out a room after a flood will ultimately depend on the size of the flood, the porosity of the materials you're trying to dry out, and the current humidity level.
It is recommended that you continue to run your dehumidifier until all porous surfaces are completely dry to prevent mold growth. This can take anywhere from a few hours to several weeks, depending on the water level and the capacity of your humidifier.
Looking to discover more awesome gadgets? Head over to our Best Of Electronics section to see all the latest product guides and reviews. You can also subscribe to our Best Buys Newsletter to be kept informed of popular products and upcoming sales. If you're looking for a great tech bargain, you can in the meantime head over to our news.com.au coupons page to see a list of current deals and offers.
Lauren is the Best Of Consumer Technology Editor at news.com.au. Previously, she worked at comparison site Finder as a senior shopping writer, where she reported on everything from tech gadgets to the latest home products. Before cutting her teeth as a journalist, she earned a bachelor's degree in journalism from the University of South Australia and worked as a media adviser for JB Hi-Fi where she sold the very products she writes about now. .